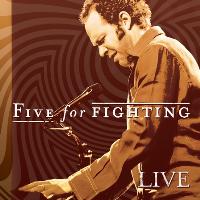 Hawaiian Hotels & Resorts (HH&R), which owns and operates the Royal Lahaina Resort on Maui and Royal Kona Resort on the Big Island, is bringing Grammy-nominated singer/songwriter John Ondrasik's Five For Fighting to perform live at the two properties. The Kona concert is scheduled for April 21 and the Maui show will be April 23.

The concerts will be held oceanfront at the luau grounds for each resort.

For concert only tickets, www.GrooveTickets.com will handle the reservations online. Each concert is $65 per person for general admission and $85 each for VIP tickets. The VIP tickets include Premiere Table Seating, table service, and two drink tickets. For parties of 10 or more, exclusive tables can be reserved in advance.

Both resorts will offer one-night hotel stays along with the concert tickets. For the Royal Kona Resort's April 21 concert, rates begin at $215 for two in a garden/mountain view room with two, general admission show tickets. Each additional person in the same room is $100, including the concert ticket. A garden/mountain view room with two VIP tickets is $255 for two. Additional persons in the same room are $120, including a concert ticket.

The Royal Lahaina Resort package for April 23 starts at $255 for two for a Garden Cottage Room, including two, general admission tickets to the Five For Fighting concert that evening. Any additional persons in the same room are $100, including a show ticket. With two VIP concert tickets, a Garden Cottage Room for two is $295. Additional persons in the same unit are $120 each, including the concert.

For more information and hotel stays that include concert reservations at either the Royal Lahaina Resort or Royal Kona Resort,  visit www.hawaiihotels.com. For concert only tickets, go to www.GrooveTickets.com.
Read more on: