Many city tours are either generic, big-group walks – in which you are fed dry facts with no particular theme – or super-cheesy, "we're-not-like-the-other-tours" experiences, where you are guided by someone wearing a trilby and strumming a ukelele while telling tales of local cult legends. So, we've put together a list of guided tours that try to offer something specific, controversial or thought-provoking. In other words, this is a guide to tours for people who don't like guided tours.
So the Slice of Brooklyn tour is a fun way to learn about New York, while the "walking seminar" in Tokyo – in which you learn about Japanese geek culture – is perfect for a traveller who wants to look at a society in a deeper and more academic way, and the Cph:cool tours in Copenhagen will appeal to those who take design seriously.
Occupy tours, London
​
Canary Wharf seen from the Orbit Tower in Stratford, east London. Photograph: Andrea Baldo/LightRocket via Getty Images
While the Occupy protests that took over central London three years ago are a distant memory for most, the group lives on, organising and supporting grassroots campaigns to tackle inequality around the world. Among the continuing projects is Occupy London Tours: a volunteer-run tour company that aims to shed light on the secretive world of finance and politics. The tour around Canary Wharf narrates the financial crash of 2007-08 as you wander among the buildings where many of the firms responsible for it are based. The tour of Mayfair looks at "shadow banking" – joining up the dots between politics and finance. Anyone is welcome on the tour – which is "not a lecture". According to the team, they've even been attended by the odd banker …
• Three tours are currently on offer, two monthly and one fortnightly. All are free and last around two hours, occupytours.org
Brooklyn pizza tour, New York
Grab a pizza the action. Grimaldi's pizzeria under the Brooklyn bridge. Photograph: Alamy
If Macaulay Culkin's New York-based pizza tribute band the Pizza Underground (source of such classics as Cheese Days and All the Pizza Parties) has taught us anything, it's that pizza is a big deal in the five boroughs. And you can learn exactly why on the Slice of Brooklyn tour, a four-and-a-half-hour trip around the history of pizza in Brooklyn. The tour, started by local Tony Muia, also takes in the area's famous sights, as well as movie locations from New York classics such as Saturday Night Fever and Goodfellas. Of course, the tour is punctuated by stop-offs at two of Muia's favourite pizzerias for a doughy, cheesy, refuel.
• Tours Mon, Wed, Fri, Sat and Sun at 11am, starting in Union Square, Manhattan. Adults $80, kids $70,including two slices of pizza and a soft drink at each of the two pizzerias. asliceofbrooklyn.com
Space Invaders, Paris
Game plan. Street art in Paris
Street art may make up the backbone of the Paris Space Invaders family tour, but it's not the subject of it. Using the work of French artist Invader – who creates coloured mosaics inspired by the classic Space Invaders game – to distract the kids, this is a fun, family tour that should keep all ages entertained. Kids are tasked with hunting down the alien invaders, as well as drawing pictures of the things they see along the way, while adults can enjoy hearing in more detail about the city as you stroll through Bastille, Le Marais and past sites such as the Centre Pompidou and the Jean Sans Peur tower, "attacking" aliens as you go.
• £62pp in a group of four, tours start at 2pm and last three hours, localers.com
Hidden city tours by the homeless, Prague
​
Prague's Charles bridge at dawn. Photograph: Ralf Hettler/Getty Images/Vetta
Tours given by homeless people, or those in precarious social situations, are on offer in several cities now, including Paris, Barcelona and London. In Prague, the tours are run by a social enterprise, Pragulic, which was set up by students after they were awarded a €1,500 social entrepreneurship grant. The tours are not your usual sightseeing affairs; instead they take you on a journey into a hidden side of the city. Among those presented in English are Robert's tour by railcar through the Prokopské valley to visit an important squat, and Ondra's tour of some of the city's most interesting buskers – including the fastest Czech guitarist.
• Adults £7, family ticket £20, tours last 2-2½ hours, locations around Prague, pragulic.cz
Design and urban cool tours, Copenhagen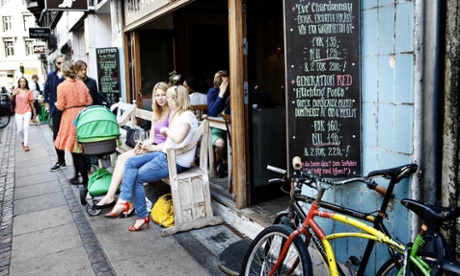 ​
Vesterbro, Copenhagen Photograph: Ty Stange/Copenhagen Media Center
The aim here is to offer tours of the Danish capital without taking people around the city's predictable monuments and museums. Instead, Cph:cool focuses on design, architecture and urban development. The tour of the Refshaleøen island industrial site takes visitors around the creative hubs emerging in the otherwise derelict area, including the world's only civilian spacecraft laboratory, a trendy restaurant and a children's theatre. Meanwhile, the tour of Vesterbro tells the story of the area's transformation from one dominated by vice to a neighbourhood dotted with fashionable cafes, shops and galleries.
• Tours for 1-6 people £175pp, for 7-20 people £28pp, last around two hours, locations around Copenhagen, cphcool.dk
Geek culture in Tokyo
​
Akihabara district, Tokyo. Photograph: Alamy
Context Travel's walking seminars are defiantly "not tours". The company, which operates in cities across Europe, as well as Asia and America, employs academic specialists to design "narrative participatory experiences" for the "intellectually curious traveller". It may sound pretentious, but the experiences have received widespread acclaim for offering something to satisfy those who often feel short-changed by generalised group tours. The walk through Tokyo's Akihabara neighbourhood, a popular hub for the anime and manga mega-fans who make up Japan's colourful otaku subculture, is one that particularly jumped out. Led by a journalist, an academic and a filmmaker, the tour is unlikely to leave you feeling like you've been fobbed off with facts from Wikipedia.
• £49pp, walks last three hours, contexttravel.com
iPhoneography walks, Buenos Aires and Santiago
​
Street spirit … Santiago, Chile
By putting a high-end camera in the hands of millions of people, the iPhone has revolutionised photography. But most of us still don't know how to get the most from it. Fota Ruta's iPhoneography tours of Buenos Aires, Argentina, and Santiago, Chile, aim to change this: the half-day tour includes a workshop that details the apps and tools you need to maximise the potential of your pocket camera. You can then practise your creative composition while wandering through one of the city's hip neighbourhoods, concluding with professional feedback on your work.
• £40pp includes tuition pack and glass of wine and lasts about four hours. Runs every Tuesday. Meet near Palermo (Buenos Aires) or Avenida Italia (Santiago). Non-iPhone-owners are also welcome. foto-ruta.com
Specialist food tours, Rome
​
Restaurant in Trastevere, Rome. Photograph: LOOK Die Bildagentur der Fotogra/Alamy
Find out why you shouldn't turn your nose up at offal, what seasonal dishes to try at a kosher bakery and where to sip Italian craft beer on one of Katie Parla's food tours of Rome. Parla is an experienced critic and writer and is currently working on a Roman cookbook to add to her existing catalogue of guides to the city. On the tour she draws together history, archaeology, politics and society to add context to the culinary traditions of the Italian capital.
• Food tours (usually two hours, for a maximum of six people) cost £250 for the group, [email protected], katieparla.com/tours
Twilight tour, Berlin
​
Mural by the artist Plotbot Ken, Berlin
You hear a lot of tours claiming to be "different" from the norm. But some of the tours offered by Alternative Berlin really do seem to have an edge that would put off more "vanilla" travellers. Its twilight tour of the city, which is the "most extreme" it offers, invites you to "meet the freaks that come out at night" as you explore a sci-fi-style bunker used by hackers, stumble through ruined buildings and drop by squat houses and industrial complexes. Warning: no flip-flops.
• £15pp, Fri-Sat, meet at 6pm for tours last 4½ hours, alternativeberlin.com
The Worst Tours, Porto
​
A vacant palace on Bonjardim Street, Porto. Photograph: Porto Worst Tours
Run by three architects who refused to leave Porto in spite of the recession (and the local tourist board, which would prefer them to be showing visitors around the more traditional attractions), the Worst Tours take visitors around underdeveloped neighbourhoods, housing projects and areas of the city that help tell the story of urbanism, class and politics in the city. As they put it: "The kids of the recession present: the f*ck-it-all concept … Austerity Killed the economy. Fancy a walk?"
• Free (donations accepted), tours take 2-3 hours, locations around Porto, theworsttours.weebly.com
This article originally appeared on guardian.co.uk
This article was written by Will Coldwell from The Guardian and was legally licensed through the NewsCred publisher network.