"They're here!" called one of our group, as everyone scrambled to put on snow boots, four extra layers and grab cameras that weighed the same as a newborn. The tinny pop music switched itself off as our host slammed his laptop shut to bundle us out of the door. "She is here," he said to us with Confucian wisdom, leading us round the side of his house. "Aurora."
We looked up. My neighbour gasped and started clicking away on his camera. "Whoah," said one of two token enthusiastic Americans. I gasped too. Because the sight I'd waited a lifetime to see was in front of me – the elusive Northern Lights had unveiled themselves a mere 30 minutes after my arrival – and all I could see was a grey streak, arcing across the sky.
It wasn't green. It wasn't purple. It wasn't dancing, or prancing. For my birthday, I had travelled 2,200 miles to see what looked uncannily like a low-flying plane's vapour trail.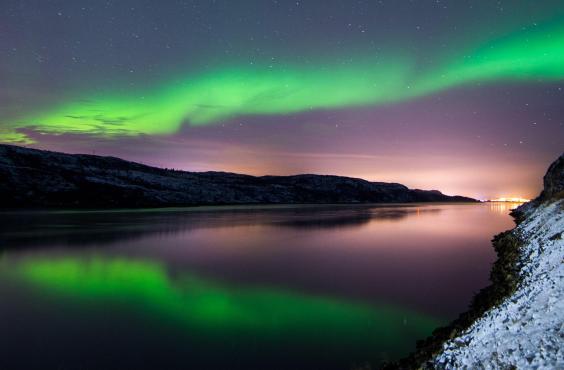 Northern Lights trips will get you a great Facebook picture, but in reality they're underwhelming, says Julia (Getty/AFP)
I've known disappointment in my life. I've known disappointment in my travels, too. But nothing has disappointed me quite like the Northern Lights. And that's mostly because it felt like admiring the emperor's new clothes.
It wasn't that I expected the all-singing, all-dancing Northern Lights as soon as I landed in the Arctic Circle. I knew, as everyone who's planned a Northern Lights trip knows, that the Aurora Borealis is skittish and elusive, that seeing the lights depends not just on the weather (dry, clear skies are best) but also on location (when it's sleeting in one place, it can be clear in another) and a good dose of luck (sometimes they stand you up, despite the right conditions).
But I did expect us all to be on the same page.
And yet here we were – a group of eight, three of whom were celebrating birthdays, two of whom were on their honeymoon, one who'd travelled across seven time zones to see the Northern Lights, a gathering from four continents – gazing at the barely perceptible streak of cigarette smoke in the sky, and everyone except me and my friend Sophie appeared to be rapt.
I looked around. This was billed as a Northern Lights "chase" – like the bus tours that set out from Tromsø every night, driving until they find the Aurora – but, in reality, we just sat in our host's living room, a couple of hours outside of the city, peering out the window. The most chasing we did was when, upon his announcement that Aurora had arrived, we walked out the front door and onto his terrace above the road. There was, at least, a fjord the other side of the road, and snow-covered mountains the other side of the fjord.
I studied the sky, desperate for the tiniest flick of the chemtrail's tail.
"You two. Turn around!" barked our host, brandishing his camera. We didn't want photos, but he didn't care; he positioned us, backs to the grey streak and the road, staring at his front room. He asked us to stand still for 10 seconds ("You moved," he admonished us at the end) as he took our "Northern Lights photo". And through the miracle of photography – long exposure, light levels adjusted afterwards (he swore it wasn't Photoshop) – Sophie and I finally saw the Northern Lights. There we were, standing on the edge of a fjord (the angle cleverly knocked out the road), with a plume of green waving in the background above our heads. At least we could hold our heads high on Facebook.
In defence of the Northern Lights, it was clear we'd picked the wrong operator to take us to them. Not only because "hunting" them involved nothing more than looking out of the window as he played us what I think were the Vengaboys' greatest hits, then hauling ourselves off the sofa and walking onto the patio if anyone caught a glimpse. Not just because "base camp" was a house like any other on a fjord-facing street, and the "rustic" lavvus – wood-constructed Sami tipis – that were supposedly in the "forest" were in the garden. Not just because, to improve on the -14C cold, guests had to feed the woodburner every half hour, throughout the night. "It's romantic," said the host. "It's not fun," said one of the honeymooners, with a brave smile. "But it's got to be done."
Not all Northern Lights operators deliver so little, of course. Most Northern Lights "chases" involve rather more movement, with coaches taking you from the lights of Tromsø (or Reykjavik, Kiruna or the other Northern Lights epicentres) into the countryside where you have a better chance of seeing them.
But nothing's foolproof. David, another friend who went to Tromsø shortly after I did, spent five days hunting them down, and managed "10-15 minutes of greenish grey and one definitely green flash" on his last night. "I was pleased to get to see them, but I hadn't appreciated how dicey the cloud situation was," he told me.
"Most of the websites I'd looked at had emphasised how likely they were to find them if it was a clear sky, without going into the chances of it not being a clear sky. I also hadn't appreciated quite how big the gap would be between the photos and the average experience with the naked eye."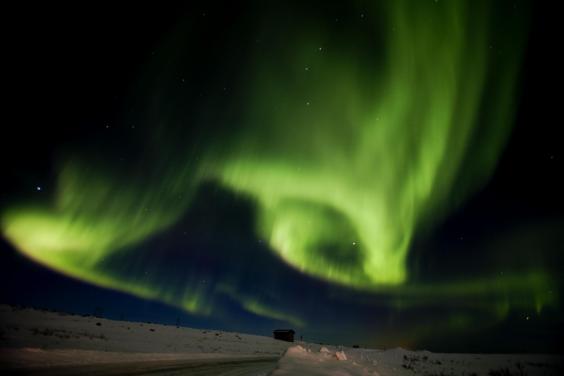 Typical Northern Lights photos are taken with long exposures (Getty)
David liked Tromsø itself and is still glad he went. The other guests at my "base camp" were enthused about the daytime snowmobiling and dog-sledding excursions that are the bread and butter of every Northern Lights trip (not least because people warn you not to set your heart on the elusive lights, even though everyone knows you're going for the lights). But nobody really met my eye when we talked about the aurora.
It was better on our second night (we rented a house in a different location, and 'chased' the lights around the patio ourselves). There was a definite tinge of green to the streaks, and they swayed a little dad dance over the nearest mountain for a good 20 minutes. But they still weren't anything like the photos, or the articles, or the blogs we'd read in advance. (Visitors who get really lucky can see more colours than we did, but there's still a huge gulf between pictures and reality.)
They weren't the main attraction, either. There are many reasons to visit northern Norway in winter – activities aside, the snow-slathered mountains, iced fjords and frozen tundra is worth the flight itself, and aurora aside, my five-day trip was spectacular. Even the sky has alternatives. As we drove back to Tromsø, thick snow-clouds scudding across the horizon in perfectly composed formations, Sophie turned to me and said: "But if you'd never seen clouds before, wouldn't you find clouds a lot more impressive than the Northern Lights?"
Sophie was right.
This article was written by Julia Buckley from The Independent and was legally licensed through the NewsCred publisher network. Please direct all licensing questions to [email protected].
Read more on: