by Simon Calder, The Independent, February 17, 2017
A scam villa rental website preying on bargain-hunting holidaymakers has been shut down after pressure from The Independent.
The site, cycladesrentals.com, was the latest attempt at defrauding travellers using images taken from genuine websites. It claimed to have been "in the field of luxury tourist services for decades", but was in fact set up last month.
The fraudsters had even set up a pay-per-click arrangement with Google for key words such as "Santorini villas". When The Independent pointed out the attempted fraud to Google, the link ended.
The cyber-criminals boasted: "To build our collection, we searched for, visited, stayed at and evaluated dozens of properties, hand-picking stunning waterfront villas, focusing on luxury, privacy, quality and exclusivity." 
In fact, they had stolen that claim from a genuine Greek holiday company, Blue Villas, as well as images from a range of legitimate villa firms — including Villa Plus, based in St Albans.
Nick Cooper, founder and co-owner of Villa Plus, said: "First it makes you sick to think that these crooks are using our pictures of our villas to rip people off, with many people turning up overseas to find they have no accommodation, and secondly you feel violated seeing your villas on fake websites, it is truly a horrible feeling."
Mr Cooper also questioned how a visibly fraudulent website could remain untouched for several weeks: "You feel so frustrated that you have found a fake website and it is so hard to get it taken down quickly.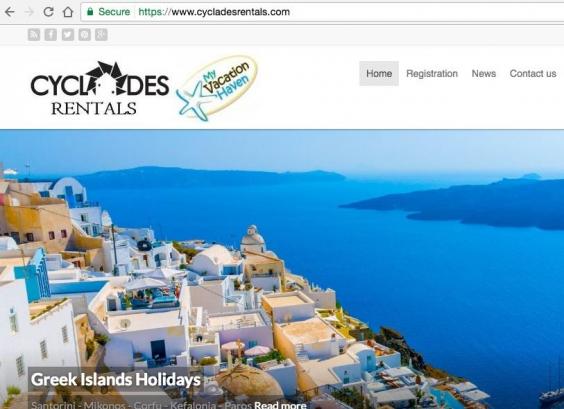 The homepage of the fake Cyclades Rentals website
"It is so frustrating to know that someone will lose money tomorrow, about something we all know about today."
The website was hosted by the US organisation, GoDaddy, which initially told Mr Cooper: "We have reviewed your complaint but at this time we are unable to take action without a court order."
After an approach from The Independent, the site was taken down.
The same gang is thought to be behind two previous scam sites, Canarian Luxury Villas and Verbier Chalet Rentals. All three sites shared the same marketing copy, which was stolen from the London-based Healthy Holiday Company. They failed to amend the copy, leaving in a baffling reference to "exceptional 'on the ground' healthy experts".
Pictures of "staff" at Cyclades Rentals had been lifted from genuine businesses. The supposed concierge had an identical photograph to a Manhattan real-estate dealer.
The fraudsters wrote their own fake reviews, though lacked attention to detail. A picture of "Paloma", the property manager, clearly shows a female. But an apparent "customer" named as Andreas Webber From Koln writes: "I have certainly put Paloma through his paces asking for many quotes and questions and he has delivered every time."
The business model used by the perpetrators is to demand payment by bank transfer, a transaction that cannot be reversed. The site offered a laughable "Payment Protection Guarantee", which was said to apply only for a "Wire Bank transfer directly to the owner bank account".
When The Independent asked Google about the pay-per-click arrangement, a spokesperson said: "We have a set of policies which govern what ads we do and do not allow on Google. These policies make it clear that we do not allow fraudulent or misrepresentative sites.
"If we discover sites that are breaking this policy we quickly take appropriate action."
The fake firm also claimed to be a member of the "Greek Tourism Organization". The Independent notified the Greek National Tourism Organisation, but it appears no action was taken.
Mr Cooper of Villa Plus said: "It has never been more important for the buyer to be aware when renting a villa and to take extra precautions and be super-vigilant."
Prospective holidaymakers are especially vulnerable to scams because of the convention of paying in advance. Many travel industry figures are alarmed at the apparent lack of appetite on the part of the authorities to pursue the perpetrators, allowing them to resurface repeatedly.
This article was written by Simon Calder from The Independent and was legally licensed through the NewsCred publisher network.